by Joe Sommo '03 | Alumni Communications Director
We are very excited for the 2017-18 school year, which is now underway, and we look forward to experiencing each memorable moment with all of you.
This year will be special for many reasons, most notably because we are continuing our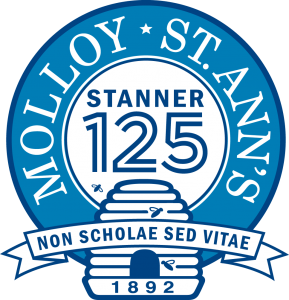 celebration of the 125th anniversary of the founding of St. Ann's Academy / Archbishop Molloy High School. This historic celebration, which kicked off this past spring, has allowed us to reflect on all of the people and traditions that have made our school unique. Consider the following: the Marist Brothers who built St. Ann's and transformed it from a boarding and elementary through 12th grade school in Manhattan into a top-tier high school in Queens; the lay faculty who have inspired thousands of young men and women; the students who have established a tradition of excellence in academics, athletics, and service. Consider the lessons we have all learned as Stanners: Generosity; Gratitude; Confidence; Leadership; Humility; Faith; Respect; Discipline; Integrity, and so many others. In other words, we are celebrating 125 Years of What Matters.
Our anniversary has also inspired us to think about where Molloy is headed in the next 125 years. Considering recent trends, including Molloy's adaptability in adopting new technology and literally dozens of major campus upgrades, we happen to think the future is bright for the next generations of Stanners. We'll be covering this past summer's many extensive facility renovations in our next Beehive on September 22nd.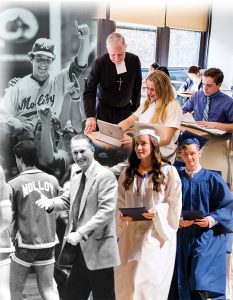 There are many other things that will help define this 125th anniversary year. Planning is well underway for our upcoming Stanner Alumni Reunion, which will host over 500 Stanners and guests this November 4th. We are also looking forward to the 30th Annual Andrew Harvey Memorial 5K Fun Run, which has been announced to be the very last time Molloy will host this event. 2017-18 also marks Molloy's transition into a fully-integrated iPad curriculum. The Class of 2017 was Molloy's last class ever to graduate with printed textbooks. As of now, all teachers and students in our school utilize iPads. (Pictured left: Iconic images that help define our theme, 125 Years of What Matters)
Molloy will also host a historic 125th anniversary Mass on Wednesday, November 22nd. The Mass will coincide with our annual Thanksgiving Liturgy and serve as a symbolic homecoming for everyone in the Stanner family. All are welcome to join us as we celebrate 125 years of What Matters. More information on this event will reach you soon. In the meantime, catch up with today's Beehive, and look out for our next issue on September 22nd. Welcome back to high school!