by Elizabeth Sullivan '20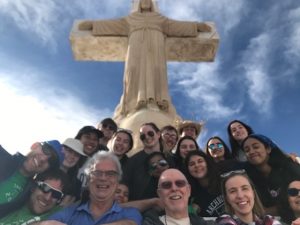 In February, I had the opportunity to go to El Paso, Texas with the St. Marcellin Champagnat Society for a border immersion experience. This trip was not only informative, but also extremely impactful. Our group did many activities and heard from people who have dedicated their lives to the border crisis. We were there for five days, and every day we heard at least one speaker. These speakers are people who live in El Paso and work with migrants on a daily basis. On one of the days, we heard from an immigration lawyer who outlined the entire system for us. On the same day, we heard from two border patrol agents in order to gain a different perspective on the issue. We met with the owner of migrant shelters in El Paso, a priest who talked about the economic issues of immigration, a woman who worked in the Obama administration and came back to El Paso to help, and many others who have been working tirelessly for migrants. Perhaps the most impactful activity we participated in was going to a migrant shelter that housed people who were just released from ICE custody and are waiting to go to their sponsor in the United States. There, we stayed for six hours and got to know the people. We played games with the children, gave English lessons to the children and adults, and had dinner with them. The whole purpose of the trip was to really try to imagine what it would be like to be in the migrants' positions, and volunteering at the shelter did that for us. We experienced the culture of El Paso and its sister city, Juarez, Mexico. We learned that people travel back and forth everyday between the two cities, but new policies have made that much harder.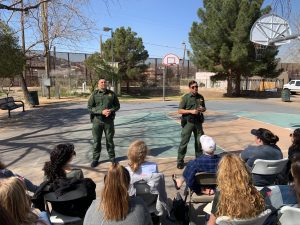 I gained a lot of information on this trip, and it all led me to the fact that the United States immigration system is a system of deterrence. The policies put into place are made to discourage people from entering the United States legally. Migrants seeking asylum only qualify if they are being persecuted because of their race, religion, nationality, political opinion, or social group. In order to proceed to an asylum hearing, migrants must pass a credible fear test, which is incredibly difficult because all they have is their word. Migrants going through El Paso have a 2% chance of being granted asylum, meaning 98% are deported back to the dangerous situations they were trying to escape from. The national average of asylum seekers who are granted asylum in the United States is only 11%. We learned that border patrol agents practice a process called metering, which is when they place agents before the ports of entry to turn migrants away before they can even claim asylum on American soil. Migrants have a right to a lawyer, but one is not assigned to them if they cannot afford one, which most cannot. When they are in ICE detention centers, migrants are treated terribly. They are fed frozen burritos for every meal, the centers are kept extremely cold, and they are given one blanket that does not keep them warm. The border patrol agents taught us that they are there to help the migrants but want them to get into the United States the legal way. The problem with this is that the legal way can take up to decades. This is time that these migrants do not have because they are in danger. We heard stories that are hard to imagine about life in countries like Honduras and Guatemala where people resort to drastic measures to feed their families and where people are being targeted by gangs who will not stop until they get what they want. Hearing stories like these made all of us on the trip ask what we, as New Yorkers, can do to help.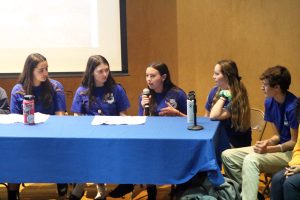 (Pictured right: Elizabeth Sullivan '20 speaks during Marist Refugee Awareness Panel at Molloy) The people in El Paso who we heard from encouraged us to help from here in New York. We can vote for officials who will attempt to fix this broken immigration system. The most important thing to do is to educate. We came back to New York to inform the people in our lives what the system actually is and what entering legally really means. The week of March 2nd, the Marist Brothers sponsored Marist Refugee Awareness Week. At Molloy there were daily prayer intentions for refugees being aided by Marist projects in different countries around the world. We also held a panel after school where members of SMCS told other students and faculty what we learned on our trip. All of the students that went, including myself, have been talking about what we saw and who we met in order to keep the discussion about immigration present in our daily lives, so that we do not forget what we learned. The one thing I took away from this trip is that change needs to happen for the millions of people who are attempting to escape danger but have nowhere to go.
Photos courtesy of the St. Marcellin Champagnat Society.