Download Stanner Alumni Center's 2016-17 Annual Report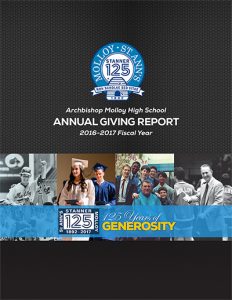 The Stanner Alumni Center, on behalf of Archbishop Molloy High School and St. Ann's Academy, is pleased to share our Annual Donor Report for the 2016-17 fiscal year. Molloy's fiscal year runs from September 1st through August 31st of the following year. Our school community supports a wide range of scholarships, technology enhancements, facility upgrades and renovations, and other campus priorities through their generous annual gifts. When you give to Molloy, you enhance our Catholic Marist mission and create opportunities for students to achieve their goals. By giving to Molloy, you join a group of individuals who are gratified by being part of the Stanner family of supporters. It is your example that encourages others to give. Depending on the amount or designation of your gifts, we are very pleased to induct our benefactors into the giving societies within this Annual Donor Report. Donor Reports from 2010 through 2016 are available on our website. For donor information prior to the 2010-11 fiscal year, please contact the Stanner Alumni Center at 718.441.9210.
DOWNLOAD 2016-17 ANNUAL REPORT
Stanner Life Magazine --- Summer 2017 Issue!
We are pleased to announce that our summer 2017 edition of Stanner Life, Molloy's annual alumni magazine, is now available! Copies have begun to land in over 24,000 mailboxes across the United States and in various parts of the world. The new Stanner Life includes plenty of Molloy news, including curriculum changes, details about our participation in the Marist National Day of Service, a banner year for Stanner Sports, and Br. Pat Hogan's well-deserved retirement. You will also read about our Stanner 125 kickoff celebration, as well as our dignified walk/run event in memory of Karina Vetrano '04. We also extend our thanks to all of the alumni who submitted their fascinating class updates. If you missed your chance to make it into our latest magazine, remember you can always be featured in The Beehive! Submit all content to Beehive/Stanner Life Editor Joe Sommo '03 at jsommo@molloyhs.org.
Note: If you do not receive your copy of Stanner Life in the coming days, please contact Joe via the email above. You may need to update your mailing address! In addition, if you have a large Stanner family, with many magazines coming to a single address, please let us know if you would like us to update our database with new addresses for your children.
And for those who wish to have a digital copy, our latest Stanner Life and archives dating back to 2011 can be found on our website: www.molloyhs.org/StannerLife/