Upcoming Events
3/21/20 - Track & Field Wall of Honor Reception (Click to Register)
5/4/20 - 34th Annual Jim Kinnier Stanner Golf Classic (Save the Date)
5/16/20 - Walk/Run for Karina (Save the Date)
---
Alumnae Enjoy Yoga & Meditation Session
The Stanner Alumni Center would like to thank Jen Kelleher '04 of Body Love By Jen for volunteering her services during our first event of 2020. Jen led a group of our alumnae in a rejuvenating yoga and meditation session suitable for all experience levels. The event was a great way to start this new decade with a health-conscious approach. Jen is available for events/group bookings as well as one-on-one health coaching. For more information follow @Jennifer_kaitlin or visit www.bodylovebyjen.com.
---
Alumna Visits With GERLL Club
Christy Dey '16

recently served as a guest speaker after school during a meeting of Molloy's G.E.R.L.L. Club (Girls Empowerment for Real Life Leadership). Christy first shared a bit about her background. She is currently studying economics and environment at Barnard College and is an intern at J.P. Morgan. Christy shared tips and advice to our students on how to manage their time and juggle their many responsibilities. She urged them to prioritize time management, and to always be aware of how much time there is to complete a task, whether it is a single exam or a paper with a longer deadline. Christy recommended volunteering often and recording these experiences in their portfolios. "Schools and future employers love to hear about your volunteer work," she said. "It's a great talking point in interviews. What did you offer as a volunteer and what did you learn from it?" Christy then shared several interview tips including: 1. Research the school/company you are meeting with. "The moer you know, the better." 2. Schools/Companies want to see that you are passionate about their mission, or how your passion aligns with theirs. 3. Be kind and authentic. 4. Talk confidently about what you can bring to their school/company. Christy closed by circling back to their current experience at Molloy. "It is important and rewarding to genuinely strive to learn and absorb. Don't only focus on the numbers or the grades." Thank you, Christy, for meeting with our students! (

Read an alumni update about Christy from 6/17/18

). (

Special thanks to Brianna Garrison '21 for providing information for this story

)
---
Molloy Community Celebrates Thanksgiving Liturgy
On Wednesday, November 27th, over 100 alumni, family members and friends joined the students and faculty of Molloy as we celebrated our annual Thanksgiving Liturgy. This year's homecoming also included a reception compliments of the Stanner Alumni Center, which featured delicious chocolate chip cookies and hot cocoa. We were excited to hear so many positive updates from our alumni, in particular many from our recent graduating Class of 2019!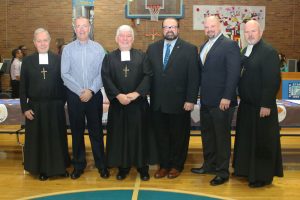 The theme of this year's Thanksgiving Liturgy was uniting as one international Marist community. Mr. John Kramer and Ms. MaryAnn Safrey, both part of the Liturgy Committee, spoke before Mass. "We give thanks for the work of the greater Marist community of which we are a part," said Ms. Safrey. "On the table in front of the altar is last year's student-created mural representing the provinces of Arco Norte, the Marist community of the Western Hemisphere. Recently, Marist Brothers from South America, Central America, the Caribbean and Canada convened in the United States. We were honored and privileged to attend their meeting and have those brothers, generous Marist leaders, sign our mural."
Mr. Kramer then spoke. "On the wall above our altar today, we have a new mural, created by Rebecca Donowski '20 and painted by our students. It represents an even wider diversity of countries around the world. Countries from which our alumni, students, and staff trace their roots. We are A.M. Our families originate from all corners of the globe, just as our Marist family serves in all corners of our globe to carry the good news and mission of Jesus, Mary, and St. Marcellin Champagnat across our world." Ms. Safrey closed, "We have so much work to do as Marists, but also so much to celebrate. Let's rejoice, be glad, and offer our many blessings, as well as our struggles, back to God in the form of gratitude for our ongoing Marist mission and calling."
Thank you to everyone who came out to celebrate our Liturgy. Special thanks to Rev. Fr. Chris Heanue, Br. Patrick McNamara and Br. Dan O'Riordan '85 of the Marist Provincial Office, the Liturgy Committee, alumni who joined the chorus, and Culinart Food Services.
---
Late Joe Russo '62 To Be Honored By St. John's University
St. John's University recently announced that the late Joe Russo '62 will be among eight outstanding individuals who will be inducted into its Athletics Hall of Fame during the weekend of January 18, 2020. Russo, also a Stanner Hall of Famer, coached St. John's baseball for over 20 years and never had a losing season during his tenure. He achieved a record of 612-310 as coach, which equates to an elite .664 winning percentage. He famously led St. John's to two appearances in the College World Series (1978 and 1980). Congratulations to Coach Russo and his family on this prestigious honor. Coach Russo is sorely missed by everyone at Molloy and especially by our baseball alumni community.
For more information about SJU's Hall of Fame weekend or to read more about Coach Russo's outstanding career, click the following link for the full press release. | Read Full Press Release
---
UPDATE 12/4/19: On behalf of the Marist Brothers, administration, faculty, staff, and the students we serve, the Stanner Alumni Center would like to thank everyone who generously supported The Fund For Molloy and our named scholarship program this #GivingTuesday.
On December 3rd, you generously donated over $27,000, which will directly benefit our students! Your kindness will help Archbishop Molloy High School continue to feature an innovative curriculum, offer formative retreat and encounter programs, facilitate the ongoing modernization of our six acre campus, and enable critical needs assistance for students and their families.
Once again, on behalf of everyone at Stanner High, thank you for your generosity and commitment to our mission on Giving Tuesday and every day. | Click here to read the full story.
---
Stanner Alumni Reunion - PHOTOS NOW AVAILABLE!
On behalf of everyone at Molloy, THANK YOU to the 569 alumni and guests who registered or attended the Stanner Alumni Reunion on November 2nd. We had a wonderful evening celebrating the return of class years ending in 4 and 9. Seven decades of Stanners were represented at the Reunion! Congratulations to all returning classes including those with the largest turnouts: the Class of 2014, who had 116 members return to celebrate their 5th anniversary, and the Class of 1969, who had 93 members return to celebrate their 50th anniversary....Read Full Recap
CLICK HERE FOR FULL PHOTO GALLERY
SAVE THE DATE – The next Stanner Alumni Reunion for classes ending in 0 and 5 is tentatively scheduled for Saturday, November 7, 2020!
---
Principal Penikas Earns Doctorate
Earlier this year, Principal Darius Penikas earned his Doctor of Education in Educational Administration and Supervision from St. John's University. His dissertation was titled The Impact of Blended Learning on Student Outcomes and Teacher Perceptions. Dr. Penikas' research included examining a k-8 school that adopted a rotational blended learning initiative. This learning style, which blends face-to-face interaction with the use of media, promotes personal development, social engagement, and teamwork through collaborative classroom projects.
Dr. Penikas came to several conclusions through his dissertation. He found that educators interviewed in the study believed that blended learning produced happier students and an overall better learning environment. He also found that blended learning provided educators with a higher level of knowledge about the specific academic progress and overall academic and personal realities of their students. Students were also found to be more active and involved during class, and peer collaboration, teacher-student interaction, and individual engagement with academic material increased significantly.
"Conducting research and continuing to engage in the academic realm was a very inspirational and nourishing experience, and I learned a tremendous amount that is applicable to my role at Molloy," said Dr. Penikas. "With the rapid pace of change and evolution in our society, studying trends in k-8 education is crucial to having leading-edge programs in secondary education. For Molloy to continue to be a top school, we need to understand how grammar school students' experiences are changing as well as the different skills they are coming to us with. Once we understand that we can provide a curriculum that will help these students elevate to an even higher level and help them to be successful in college and professionally."
---
Queens Park Renamed In Memory of FF Michael Davidson '99
On October 30th, the late FDNY Lt. Michael Davidson '99 was honored by local representatives and NYC Parks with the renaming of a new park at Phipps Playground in Sunnyside Gardens in Davidson's honor. A large crowd made up of family, friends, FDNY colleagues, and members of the community gathered for the ceremony near 39th Avenue in Sunnyside. Davidson grew up across the street from the park, which will now forever bear the name of this beloved fallen hero. Davidson, a 15-year FDNY veteran, was tragically killed while fighting a fire in Harlem on March 23, 2018. Please click the following links for additional media coverage. | CBS Local | Sunnyside Post | QNS.com
---
Jim Kinnier Stanner Golf Classic Update
The Stanner Alumni Center is excited to announce that over $160,000 was raised in support of the 33rd Annual Jim Kinnier Stanner Golf Classic, which was held September 9th. This is a phenomenal result in an unconventional year, which saw the outing rescheduled from its original May date due to bad weather. Money raised in support of this event directly benefits deserving students in need through Molloy's scholarship program. We extend our thanks to our wonderful community, who generously supported the outing through foursome reservations, journal sponsorships, auction bids, raffle ticket sales, donations, and volunteering their time and energy throughout the day across all three private courses. We also thank this year's chairmen Jack Irushalmi (Tri-Star Construction) and Scott Mager (Perfect Building Maintenance), our dedicated Golf Board, our alumni and corporate sponsors, and everyone who contributed to the success of our outing. We encourage you to click the button below to download a digital version of our journal, which includes general information as well as ads sponsored by many Stanner-owned or Stanner-friendly businesses. We are also happy to share photos from the 33rd Annual Jim Kinnier Stanner Golf Classic. Photos from this year's outing are courtesy of Vicky Higuera (Plandome), Jonathan DiDonato '01 (North Hempstead), and Joe Sommo '03 (North Hills). Click the blue button below to access the photo gallery.
SAVE THE DATE! The 34th Annual Jim Kinnier Stanner Golf Classic will be held on Monday, May 4, 2020! Join us at North Hills Country Club, North Hempstead Country Club, and Garden City Country Club! Call 718.441.9210 or email mrizzotti@molloyhs.org for more information.
Attention NYC Marathon Runners!
Resident sports historian Mr. Joe Dombrowski is attempting to compile another of his lists: every Stanner who has completed the NYC Marathon. Dan McGrath '01 (pictured) completed the race in 2:23.08 back in 2008. Kieth Florenza '05 finished in 2:33.47 back in 2010. More recently, Steve Bione '07 ran the race in 2:36.31 in 2018. We know there are many more.
If you have finished this historic race, recently or even 20 years ago, please send in your best times. Mr. Dombrowski will take your times and put together a master list that will properly archive these great Stanner achievements. Contact Mr. Dombrowski at jdombrowski@molloyhs.org.
---
Stanners Gather For Molloy Oktoberfest
On October 3rd, Over 60 alumni, parents, faculty and friends gathered for our annual Molloy Oktoberfest celebration. This casual dinner featured a delicious Bavarian-inspired dinner catered by
Mike McGuire '81
and our friends at Trinity Restaurant of Floral Park. Guests enjoyed a wide variety of German beers as well as music and décor that helped bring an authentic Oktoberfest feel to Briarwood. Each guest also received a complimentary raffle ticket for a drawing later in the evening. Winners of the raffle took home polo shirts as well as a few Oktoberfest-inspired glassware....Read More
---
Alumni Participate in Century Ride
On September 7th, over 25 riders, including numerous Molloy alumni, participated in The Esopus Century Ride. This event is "a grueling 100-mile bicycle ride from Central Park in Manhattan to the Mid-Hudson Valley Camp in Esopus. Riders represent past and present volunteers from the various camp sessions held in Esopus each summer. The ride has been held every other September for the past 20 years. In 2017, riders raised over $30,000 benefiting Esopus camps. This year, riders raised over $43,000 for Esopus camps, which is the most money raised by any single Century Ride in its history. |
Visit The Esopus Century Ride Online
---
Alumni Travel To Lourdes On Service Trip
Over the summer, 20 alumni joined members of Molloy's faculty on a St. Marcellin Champagnat Society service trip to Lourdes, France, as well as a pilgrimage to the Marist Brothers' Hermitage in La Valla. "Lourdes is the city where Saint Bernadette witnessed several apparitions of Mary, which makes it a popular Catholic pilgrimage site, especially for the sick," explained
Ms. Dyana Christie
, one of the trip organizers. "While in Lourdes we volunteered in the baths, at the Rosary Procession, and at Mass." SMCS then traveled to The Hermitage, where they spent several days reflecting on the Marist Pillars and how they influenced their service in Lourdes. Thank you to our alumni and our faculty volunteers Ms. Christie,
Ms. Catie Massowd '07
,
Mr. Gus Esgro
,
Mr. Chris Dougherty '91
, and
Ms. Jessica Pastore '04
.
---

2019 Stanner Life Magazine Is Out Now!
Stanner Life magazine is out now! This year's edition features an in-depth look at our new approach to admissions, news about additions to our 2019-20 curriculum and the recently founded Murphy Scholars Program, graduate spotlights, and much more. You will also read about the results of Molloy's Strategic Plan survey as well as the goals and initiatives that will drive Molloy forward into an exciting future.
Don't forget to update the Stanner Alumni Center with your new mailing address! Please contact alumni@molloyhs.org or 718.441.9210 if you recently moved. Some families may receive multiple copies due to generations of Stanners living at one address. If your children recently moved, please remind them to contact us and update their information. We are also happy to mail you multiple copies upon request. We look forward to sharing Stanner Life with our community.
---
Follow Molloy on Social Media
As Molloy begins a new and exciting school year, we would like to invite our community to follow us on social media to stay updated on all the latest news and events:
---
Molloy Remembers Karina Vetrano With 3rd Annual Walk/Run
The Molloy community enjoyed a beautiful day on Saturday, June 22nd as friends and family joined together to celebrate the life and memory of
Karina Vetrano '04
. Molloy hosted its third annual Walk/Run for Karina, which included several spirited activities.The event began with a Memorial Mass celebrated by Fr. Christopher Heanue, with music provided by Allison Terranova '14 and Stephen Velez '16. Following Mass, Phil Vetrano '74, Karina's father, thanked everyone in attendance for their continued presence and support of the Karina Vetrano Memorial Scholarship. Phil also thanked event sponsors Mr. Robert Agostinelli,the Jordan Family, and Mr. Brad Katinas '90 and family for their generosity. President Richard Karsten '81 and Alumni Development Officer Matt Rizzotti '04 then presented the Vetrano family with a framed photo featuring Karina's parents with Jenna Schonmann '22, the first recipient of Karina's scholarship. Jenna, who was in attendance, is excited to begin her sophomore year this fall...Click Here to Read More
---
Molloy Launches Alumni Education Network
The Stanner Alumni Center was proud to launch its new Alumni Education Network on Wednesday, June 5th during an evening reception in Molloy's William J. Murphy Library. The event was a great success, with over 60 alumni in the education field (including teachers, administrators, counselors, and physical and occupational therapists) in attendance. The event provided an opportunity for Stanners to gain valuable insights from fellow alumni as well as many members of Molloy's outstanding faculty...Click Here to Read More