2nd Annual Walk/Run for Karina Raises Over $38,000 for Karina Vetrano Memorial Scholarship
(Pictured above: The Vetrano family receives a butterfly puzzle assembled by Molloy students. Presented by Sen. Joe Addabbo '82, Matt Rizzotti '04 & President Karsten '81)
In June 2017, Molloy held its first Walk/Run for Karina in memory of Karina Vetrano '04, a beloved friend to many in our Stanner family. The event was an overnight vigil that began on a Friday night and carried into Saturday afternoon. Hundreds came out to show their support for Karina and the Vetrano family, and many did so through torrential rains. The event concluded with the dedication of a beautiful new memorial bench and garden on Main Street, as well as enough money raised to fully realize The Karina Vetrano Memorial Scholarship. Karina's scholarship will benefit future young women entering Molloy...Read More
Communion Breakfast Celebrates St. Ann's Roots
On Sunday, June 3rd, Molloy welcomed over 60 alumni and guests in celebration of our St. Ann's Communion Breakfast. Those in attendance hold a living connection to St. Ann's in some way, whether they graduated from the school, have a relative who attended, or carried on the traditions of St. Ann's here at Molloy...Read More
Congratulations Class of 2018!
Photo by Sal Graffeo '01
On June 2nd, at the Colden Auditorium at Queens College, 345 members of the Class of 2018 moved their tassels from right to left, signifying their completion of the academic program of Archbishop Molloy High School. They did so with pride, confidence, and boundless hope for the future. The Class of 2018 is a diverse group of young men and women who represent the future of our world. They also hold the distinction of being the first class in St. Ann's / Molloy history to utilize iPads throughout all four academic years. We know their talents and spirit will take them far...Read More
Over 330 Golfers Fill 3 Courses, Raise Over $170,000 in Support of Jim Kinnier Stanner Golf Classic
The Stanner Alumni Center is excited to announce that over $170,000 was raised in support of this year's 32nd Annual Jim Kinnier Stanner Golf Classic! Over 330 golfers participated in the event on May 7th, while many alumni, Stanner families, and Molloy-friendly businesses donated sponsorships and journal ads. This year also marked one of our most successful raffles to date. We are truly humbled by the generosity of our community. Proceeds from this event strengthen the scholarship program at Molloy, which in turn directly benefits future students in need...Read More
Download Stanner Alumni Center's 2016-17 Annual Report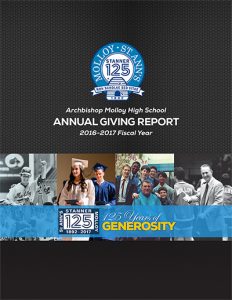 The Stanner Alumni Center, on behalf of Archbishop Molloy High School and St. Ann's Academy, is pleased to share our Annual Donor Report for the 2016-17 fiscal year. Molloy's fiscal year runs from September 1st through August 31st of the following year. Our school community supports a wide range of scholarships, technology enhancements, facility upgrades and renovations, and other campus priorities through their generous annual gifts. When you give to Molloy, you enhance our Catholic Marist mission and create opportunities for students to achieve their goals. By giving to Molloy, you join a group of individuals who are gratified by being part of the Stanner family of supporters. It is your example that encourages others to give. Depending on the amount or designation of your gifts, we are very pleased to induct our benefactors into the giving societies within this Annual Donor Report. Donor Reports from 2010 through 2016 are available on our website. For donor information prior to the 2010-11 fiscal year, please contact the Stanner Alumni Center at 718.441.9210.