English Department: Ms. Mary Edward '13 and several other English teachers are using the video app FlipGrid to meet with their students. Ms. Edward described the app as a fun, teen-friendly, video discussion board. During a recent session (pictured right, first photo), Ms. Edward and her students discussed Unwind by Neal Shusterman. "The students talked about how they feel about the reveal of what it means to get unwound, and how they felt towards that character after his unwinding," explained Ms. Edward. "They also discussed how this process made them feel towards the book's society as a whole, and whether this scene made them more sympathetic to the character. They listened to each other's responses and explained why they agreed or disagreed with them."
Ms. K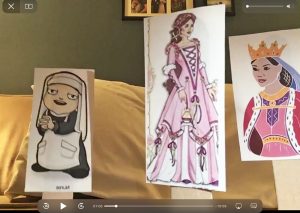 elly Edelman has been reading Romeo and Juliet with her freshmen. Ms. Edelman and her students meet on Zoom, where students will read for different characters. Last week, Ms. Edelman and her husband treated students to a Romeo and Juliet puppet show (pictured right, second photo), which they recorded using Loom. The show included explanations of the material throughout. "The students said it helped their understanding, and I heard it may even be up for a Tony Award," said Ms. Edelman.
Art Department: Ms. Terri Burke shared a few recent creations from her juniors and seniors. They were asked to draw a Tree of Life in honor of the 50th anniversary of Earth Day or in honor of family or friends. One submission combined the Earth Day theme with a lovely remembrance of Mr. Mike Harrison.
Language Department: Students in Señora Rosamond's and Señor Bronsen's classes will be paired online and create recorded study sessions In Spanish using Voice Memos.
Computer Science Department: Ms. Edit Boral has announced a virtual STEM Expo happening this month. "This event will be a fantastic opportunity to showcase our state-of-the-art STEAM program. We already have more than 50 submissions, including from Ms. Mallia's Science Research students," said Ms. Boral. University professors from different higher educational institutions, including alumna Catherine Soderberg '07, have graciously accepted to serve as off-site judges. | Click here for more information.
Mr. Larry Reilly's freshman Intro to Computer Science class is on Unit 4 of the Amazon Future Engineers Program. They are learning about programming loops and game development (pictured above). "Instead of doing the exact modules that become flat, I'm using the unit as a backbone for the students to create their own games using programming and an app called Flowlab.io," said Mr. Reilly. "When they're done, they can send their game to the Google and Apple app stores for public d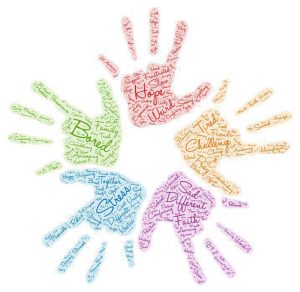 ownloads! Within a day of incorporating the app into our class, students went from choosing what platform they were developing for (mobile, pc, console), to genre (racing, adventure, etc…), to now first level creation."
Guidance: Using Google Classroom, Ms. Mary Kate McCaughey recently asked students in all of her homerooms to share words that came to mind during this time at home. She then put those words into a word cloud generator. Click on the hand print thumbnail to the right to see the results of this project.
Virtual Encounter— Seniors who originally signed up for the April Encounter will be offered the first-ever Virtual Encounter from May 29-31. 63 seniors are expected to participate. Mr. Mike Germano '93 and his team of 23 faculty, alumni and Campus Ministry Leaders will do everything possible to make this a very worthwhile experience.
Lantern— Since 2001, Lantern's mantra has been "a little piece of Esopus at Molloy". Catering to all grades, Lantern has always been an informal spiritual peer group that takes place in the chapel after school. Students from each grade level come together to pray and to talk to each other. Last week, Lantern welcomed special guests Rachel Burgos '16, Alex Velez '18, and Vanessa Diaz '19. There are three Lanterns remaining this year – all on Thursdays at 3:00pm – and, as always, all are welcome. Contact Mr. Germano at mgermano@molloyhs.org for details.
Christian Marriage— Mr. John Attard '06 served as a guest speaker during recent Christian Marriage classes (pictured left). Mr. Germano created what he termed a "F.aculty M.arriage S.eries" so that other colleagues can serve as witness to all that marriage entails. Since its inception in 2018, many faculty have participated by telling of their marriage stories and what the sacrament means to them. Mr. Germano is truly grateful for their insight and their example to our seniors.