On Sunday, April 19th, alumna Jennifer Kelleher '04 led Molloy's first ever Virtual Yoga & Meditation on Zoom! Jen welcomed over 35 participants into her virtual yoga studio for approximately 80 minutes. Alumni, faculty, family members, and friends were among those who joined in from the comfort of their own homes.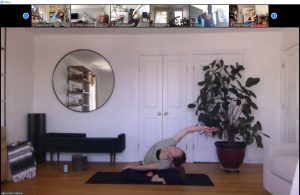 "It was such a pleasure to lead this special edition virtual gentle yoga and meditation event! I had so much fun connecting with the Molloy community and loved how the turnout included such a broad range of classes," said Jen. "Yoga and meditation have been completely life-changing for me, leading me to huge self-discoveries, transformations, and personal growth. I am honored to be doing this work and bringing these tools and teachings that have helped me so much to my beloved communities."
Participant Jessica McEntee '05 thoroughly enjoyed the experience. "Jen has a super calming presence, and she naturally exudes that during her yoga and meditation sessions. It was wonderful to have a diverse group of alumni and friends join her class. I think Jen's inclusive and inviting way of teaching made everyone feel comfortable and certainly a little more centered and relaxed, which is extra helpful especially at this time."
Jen can be booked for both individual and group sessions. She invites you to follow her Facebook or Instagram!