This Week In Distance Learning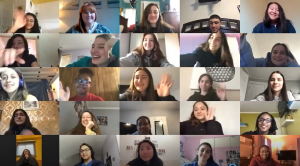 As distance learning has progressed since March 13th, Molloy's administration and faculty have been exploring new ways to conduct classes and engage students. The initial phase of distance learning focused on a smooth transition with established tools in Molloy's Learning Management System (LMS). That means utilizing apps that both teachers and students were already familiar with such as Google Classroom, Edmodo, and Schoology. Now, in phase two, teachers are employing video conferencing and screencasting at a greater frequency. Apps such as Pro Zoom, Educreations, Screencastify, and Loom are proving to be essential tools that allow teachers to inject their personal classroom styles into their virtual lessons. Teachers can appear on camera, "screencast" or share their iPad or laptop screen with students, or even record voice-over on any video. A note on Pro Zoom: it offers a much higher level of security than the non-licensed basic version, meaning sessions between Molloy's teachers and students or counselors and peer groups are safe and secure.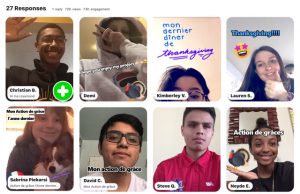 Several teachers recently shared news from their virtual classrooms with The Beehive. Ms. Shannon Winters '06 shared that her freshman class is reading Romeo and Juliet while her AP Literature class is reading Jane Eyre. Ms. Winters noted that using Pro Zoom with her AP Lit class (pictured above) has been great because "it has fostered great discussions similar to what we had been doing in face-to-face classes." In Mr. Ed Shannon's '84 Criminal Justice class, students are researching the history of the FBI. With approximately 11,400 special agents and over 16,000 other employees in administrative, technical, and supportive roles, the FBI has the broadest jurisdiction of any federal agency. Discussions have included FBI leadership, what types of crimes the agency initially investigated, and how the role of the FBI has changed since 9/11. Ms. Rosamond's French class recently used the Flipgrid app during a virtual class (pictured left). The app allows multiple users to record videos at the same time. The assignment focused on using the past tense in French, and students were asked to talk about their last Thanksgiving.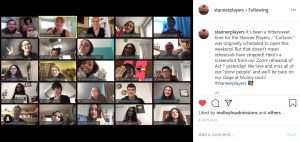 We also have some club updates! First, the staff at The Stanner newspaper is working on their spring issue, which will focus on the impact of COVID-19. They expect it to be released sometime after Easter. Speaking of publications, the Yearbook moderators report that Molloy's 2020 Yearbook has been approved for print! Students will receive their yearbooks later this spring. On March 27th, Ms. Winters met with the Stanner Players on Zoom to check in on the cast and crew. Their spring musical, Curtains, was originally set to run from April 2-5, but it was unfortunately postponed. Ms. Winters and the Stanner Players shared positive messages with each other and decided that, although their musical was postponed, they still wanted to hold virtual rehearsals on Zoom to keep the spirit of the show alive. "The show must go on" as they say! (Pictured right: Stanner Players Zoom rehearsal). Ms. Winters also asked alumni and current students to share their memories from past performances on Instagram. The response was overwhelming as tons of photos and videos were shared! You can find all of these memories under story highlights @stannerplayers.
NEWS FROM STEAM CLUB: STEAM Club members Amir Sattaur, Samantha Correa, Charles Chelstowski, and Xavier Mallo, are working on a design for TCEA's 3D Engineering Design Contest. TCEA is a Texas-based organization devoted to advancing technology in education. The competition started in February and is open to all students in the US. The prompt for this year's 3D design challenge is to develop a solution associated with wildfires in Australia.

In February, before the initiation of distance learning, the team met daily to record their Engineering Design Process (research, plan, prototype, test, document and commercialize) in an engineering logbook. They started to design a robot that's purpose is to facilitate the work firefighters endure in digging trenches for fire prevention (pictured right).

During distance learning, the team meets and collaborates in the cloud. Students share their work and ideas via Google Drive and emails. Charles, the team's principal 3D designer, successfully created the 3D prototype of the invention. "I was thinking of naming it Zeus," said Charles. "In Greek legends, Prometheus was the one to give fire to humanity. In this idea, that's the reason we have forest fires. Zeus punished Prometheus and tried to take the fire away. If our robot is fighting fires, it sort of fits." The team quickly accepted the name Zeus. The team has since been working on commercializing the Zeus Bot. The deadline for the submission was March 31st and the contest results will be announced in May.