On March 13th, Molloy marked a historic moment by initiating a distance learning approach through at least April 20th in response to the COVID-19 pandemic. Although Molloy's physical campus has been closed since that date, day to day instruction and operations have continued remotely. Early results suggest that Molloy's administration, faculty, and staff have done nothing short of a phenomenal job in implementing an array of digital classroom resources, adapting schedules, collaborating with and providing support to each other, and prioritizing students' uninterrupted education.
Pictured right: Ms. Kerry Henning's peer group leaders meet using the Zoom video conferencing app.
Each school day begins with a prayer and morning announcements streamed live by Principal Dr. Darius Penikas. Students must then record their attendance for the school day using a form on Molloy's website. A schedule matrix has been created that guides teachers through when to assign material and when to test, and for students to keep track of their classes and deadlines for submitting work. School leadership has determined that the most effective online / distance learning is primarily asynchronous. This means creating a presentation/lesson and then giving students an opportunity to process it and complete an assignment. This strategy provides teachers and students the flexibility they need to handle multiple classes at the same time. Completed assignments must be returned by all students each evening.
Teachers have utilized apps such as Google Classroom to create and distribute daily assignments, while Molloy has adopted a professional version of the Zoom video app to facilitate group video conferencing. Administrators and academic departments have used Zoom to meet and share progress updates. Teachers have used Zoom for lesson demonstrations and office hours, while guidance counselors have used the app to conduct peer group sessions with multiple students simultaneously. Teachers have also used services such as Camtasia and Loom to "screencast" or share digital recordings of their computer screens with their students. In general, video services has thus far proven to be effective tools for distance learning.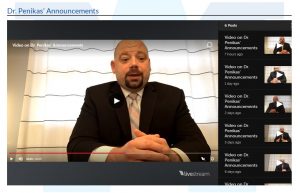 Pictured left: Dr. Penikas' daily morning prayer and announcement livestream (Click to View).
Molloy's Computer Science department shares news from their first full week of Distance Learning. Mr. Larry Reilly notes that he is using numerous apps to interact with students including Smarttech Learning Suite (multiple students can work on a project simultaneously in real-time), Schoology (student assessments and assignments), and Edpuzzle (teachers can record narration over a plethora of readily available video content online). Ms. Edit Boral reports that the Computer Science department is fully prepared to help support remote learning for students able to access devices and the Internet at home. "Through the support of Amazon, our entire computer science curriculum is online," said Ms. Boral. "All students participating in the Amazon Future Engineer Program received a free membership to AWS Educate, which provides them with free access to computing power in the AWS Cloud for their coding projects and content to learn about cloud computing. Additionally, the College Board is providing extra support for AP Computer Science Principles students who are diligently working on their assignments."
Although all extracurricular activities and sports are suspended, club moderators have continued to engage with their club members. The Photography Club has challenged students to take artistic photos while staying safely inside. The Baking Club is sharing recipes and photos. SMILE is conducting regular meetings during which they discuss trending topics on Facebook, reflect on a quote of the day, and nominate future topics of discussion. The Sci-Fi Club is contemplating a movie night where club members all tune in to the same movie at the same time. The Stanner newspaper staff is working on its spring issue which will primarily focus on the impact of COVID-19 on Molloy and the world.
Pictured below: Students submitted drawings of a flower, slice of pizza, and self-portrait in the style of Sandra Silberweig for Ms. Terri Burke's art class.
These are unprecedented times in our society. In addition to providing normalcy through consistent coursework, our administration, faculty, and staff are also showing compassion and flexibility throughout this process. Collectively there is recognition that world events can cause undue stress among students. We would like our community to know that we are doing everything we can to support our students academically and emotionally. As a Stanners, we remain strong and present for each other.
We will provide further updates regarding distance learning in the coming days on our social media feeds and in future Beehives. Please feel free to reach out to alumni@molloyhs.org if you have any questions.