On Wednesday, November 27th, over 100 alumni, family members and friends joined the students and faculty of Molloy as we celebrated our annual Thanksgiving Liturgy. This year's homecoming also included a reception compliments of the Stanner Alumni Center, which featured delicious chocolate chip cookies and hot cocoa. We were excited to hear so many positive updates from our alumni, in particular many from our recent graduating Class of 2019!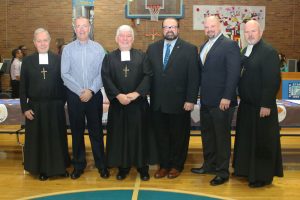 The theme of this year's Thanksgiving Liturgy was uniting as one international Marist community. Mr. John Kramer and Ms. MaryAnn Safrey, both part of the Liturgy Committee, spoke before Mass. "We give thanks for the work of the greater Marist community of which we are a part," said Ms. Safrey. "On the table in front of the altar is last year's student-created mural representing the provinces of Arco Norte, the Marist community of the Western Hemisphere. Recently, Marist Brothers from South America, Central America, the Caribbean and Canada convened in the United States. We were honored and privileged to attend their meeting and have those brothers, generous Marist leaders, sign our mural."
Mr. Kramer then spoke. "On the wall above our altar today, we have a new mural, created by Rebecca Donowski '20 and painted by our students. It represents an even wider diversity of countries around the world. Countries from which our alumni, students, and staff trace their roots. We are A.M. Our families originate from all corners of the globe, just as our Marist family serves in all corners of our globe to carry the good news and mission of Jesus, Mary, and St. Marcellin Champagnat across our world." Ms. Safrey closed, "We have so much work to do as Marists, but also so much to celebrate. Let's rejoice, be glad, and offer our many blessings, as well as our struggles, back to God in the form of gratitude for our ongoing Marist mission and calling."
Thank you to everyone who came out to celebrate our Liturgy. Special thanks to Rev. Fr. Chris Heanue, Br. Patrick McNamara and Br. Dan O'Riordan '85 of the Marist Provincial Office, the Liturgy Committee, alumni who joined the chorus, and Culinart Food Services.