On Saturday, November 2nd, Archbishop Molloy High School welcomed over 560 alumni and guests in celebration of the Stanner Alumni Reunion! Seven generations of alumni represented class years ending in 4 and 9. It was a night to reconnect and reminisce with old friends and teachers, create new friendships, and walk the halls of Stanner High once more. For some is was their first visit back to Molloy since graduating 50 years ago.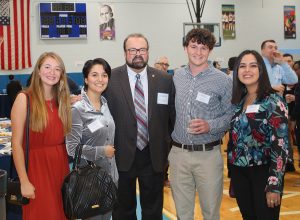 The evening began with a Mass of Remembrance in our Ralph DeChiaro Theater, which honored the memory of those Stanners who we have lost or learned of the passing of over the past year (download program). Following Mass, each class was invited to a cocktail reception meant to help break the ice. Guests later moved into the Jack Curran Gymnasium for dinner. Br. Patrick Hogan led everyone in prayer and reflected on the impact of their return all these years later. "You are still Stanners. You are always welcome home." Br. Pat was followed by President Richard Karsten '81, who prompted a standing ovation for the Class of 1969, who were standing on stage, in recognition of their 50th anniversary.
The evening continued with class photos, dinner, dancing, dessert, and so many stories. Congratulations to all returning classes including those with the largest turnouts: the Class of 2014, who had 116 members return to celebrate their 5th anniversary, and the Class of 1969, who had 93 members return to celebrate their golden 50th anniversary. The Class of 1994 also returned to Molloy to celebrate their silver 25th anniversary.
"To quote Richie Rodgers '65, 'This was the best reunion that I've been to.' What an excellent night and a great group of alumni," said President Karsten. "The enthusiasm and energy from our returning alumni and their guests, as well as from our celebrating faculty, created a night to remember. We had almost 600 in attendance, and the efforts of so many were evident in the quality of the event. The team in the Stanner Alumni Center and myself are very grateful to everyone who attended this special evening as well as to our facilities staff, IT department, Liturgy Committee, and Culinart Food Services."
SAVE THE DATE! The Stanner Alumni Reunion for class years ending in 0 and 5 is tentatively scheduled for Saturday, November 7, 2020! The Class of 1970 will celebrate their 50th anniversary! The Class of 1995 will celebrate their 25th anniversary!