This summer, Molloy hosted a variety of exciting summer camps for rising sixth, seventh, and eighth graders. These camps also welcomed ninth graders attending Molloy this fall. Read on for more details about these unique opportunities as well as contact information.
STEM Camp
STEM Camp is a week-long workshop that provides innovative, fun, and hands-on learning opportunities. This summer, campers developed apps for Android devices, designed and printed objects in 3D using CAD software (Computer-Assisted Design), and learned about the Internet of Things and how to fly a drone. In addition, students took a field trip to the Hall of Science where they immersed themselves in the wonders of flight, space travel, and aerospace innovation. STEM Camp culminated with the exhibition of campers' original 3D artifacts and a presentation of projects to parents and visitors. Contact Ms. Edit Boral at eboral@molloyhs.org for information about future camps.
Theater Camp
Theater Camp, directed by Ms. Shannon Winters '06, is a week-long workshop that covers storytelling, acting and improvisational activities, and monologue/scene work in a creative, judgment-free environment. This summer, campers participated in icebreakers and acting games designed to help them come out of their shells. Our campers also performed monologues of their choosing, wrote original stories and commercials, and even performed scenes from real Broadway shows. At the end of the week, campers performed for family and friends, showcasing the new skills they learned. They also had the opportunity to participate in a talent show where they could sing or play an instrument.
Theater Camp also includes an annual field trip with a focus on real-world experience. This year's trip was to Camp Broadway at Pearl Studios in Manhattan (where current Broadway auditions take place and where upcoming Broadway productions rehearse). Campers enjoyed a special workshop led by a working actor and participated in a variety of activities including improv, scene readings, and more. Visit the Stanner Players on Instagram (@stannerplayers) or email stannerplayers@gmail.com for more information.
Memorial 5 Camps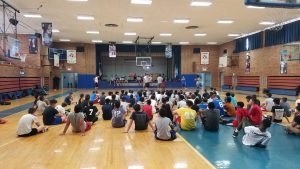 The Memorial 5 Camps, honoring the late Jack Curran, provide an inclusive, safe environment where young players can develop their skills in baseball and basketball while competing in games and contests. The basketball camp runs daily for two weeks (10 days) and features morning stretches, instructional time, drills, games, and challenges. The Elite Camp for baseball is held for one week (4 days) and is for serious players who wants to focus on intense training in the major skills of the sport. Activities include morning stretches, conditioning, strength and agility training, drills, and hitting, fielding, and pitching exercises. Visit http://memorial5.com/ for more information.